If ever a season represented two opposite ends of the spectrum for health and happiness, it's the period of time known collectively as "The Holidays".  Families gather together for a joyous feast, but as we get older, those family dynamics can be, well, tricky.  The welcoming fragrances of pumpkin pie and turkey can bring you back to your childhood in an instant, and in that same instant, there goes all your resolve…
How can I experience the numerous, creative ways my grandmother can transform humble foods, like potatoes and carrots, into sweetly indulgent dishes, and still have room to sample the vast array of desserts??!!!  Well, I can't. Not without transforming myself into something that more closely resembles the stuffed turkey. Darn.
And, then there are the parties…. So, the challenge is to stay sane and healthy through these next several weeks, and here are some of my favorite tips.
1) Stay hydrated.    Let's pretend this well-dressed lady above actually has water in her glass…  Anyway, staying well-hydrated keeps those mucous membranes moist so they can better keep bugs out of our systems.  We tend to drink less water in the winter because we turn to hot drinks like cocoa and tea.   A little warm water with lemon can be very refreshing and hydrating at the same time.  This is important for our immune system and our skin health,  too. Don't forget that your skin needs hydration from the inside, out.  Plane travel and alcohol consumption are more common during this time of year, also, both of which are very dehydrating.  Nothing says, "I'm tired"  like dry, dehydrated skin. Ugh. Consider adding a humidifier to your bedroom.
2) Eat your veggies first.   Whether you're at a party or a family meal, look for the veggie tray or eat your salad first.  This will reduce overeating, and gives you some vital enzymes and phytonutrients to help digestion and boost immunity.   Also, taking a digestive enzyme  with any big meal, especially fatty and protein heavy meals, will support digestion by helping your body break down and absorb the nutrients from the food.
3) Keep moving.  Exercise is certain to help your body and brain to function better, improving your mood and giving your body an outlet for some of those extra calories and stress. Try to walk or run outside, if possible, as this can improve your mood, immunity and help you stay healthy through the holidays even further with the addition of some Vitamin D from the sun, and some cool, fresh air.
And, speaking of fresh air, don't forget to breathe!  When you're faced with a stressful family situation, or the image of your co-worker doing the Mexican hat dance on the table after a few too many Champagne cocktails is now etched into your brain,
you may just need to take a few minutes and do this exercise.   –
Close your eyes and breathe in through your nose to a count of four, hold your breath for a count of two, breathe out through your mouth for a count of four, and repeat.  It's simply amazing how your perspective can change after doing this simple exercise.  You may even be able to smile as great-aunt-Lucy comes at you with a big piece of pecan pie and politely divert her to your unsuspecting brother…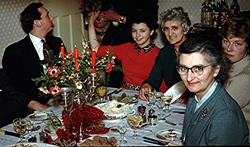 4)  Include chlorophyll in your daily supplement regimen. Chlorophyll plays an active role in detoxifying the body and is often thought to be responsible for an increase in the red blood cell count which carries oxygen to all parts of the body. Chlorophyll helps in accelerating the body tissue and cell re-growth, which allows the body to heal faster. It can help your body detoxify, and isn't that just exactly what we feel like we need after a heavy holiday meal?
5) Up your vitamin C intake. Perhaps the best vitamin for cold and flu, vitamin C in large amounts can greatly speed recovery. Humans cannot make or store vitamin C.   "It is an essential food for human beings. People who receive no ascorbic acid (vitamin C) become sick and die," – Linus Pauling from his book, Vitamin C and the Common Cold (1970). Most adults need 2,000-5,000 mg a day or more when fighting off cold or flu.  It is water soluble, so chance of overdose is low.   In severe cases, patients were given 100,000 mg/day in an IV formula and these patients recovered from cases of the flu that were deemed terminal. So, if you want to get over your cold or flu very quickly, get I.V. Vitamin C! Call Dr. Warren, he makes housecalls!
So, to stay healthy through the holidays, let's recap;   Drink Up!  Eat your veggies first.  Breathe and move.  Use cholorphyll.  Add extra vitamin C, and consider an IV Vitamin C if you start to feel badly.
I truly hope your holidays are filled with joy and health and happiness!
Blessings!
Laura
http://www.insidershealth.com/article/chlorophyll_how_it_cleanses_purifies_and_heals_your_body/3679
http://lpi.oregonstate.edu/infocenter/vitamins/vitaminC/index.html#function